Oh frappe! Vineyard diet pushes liquids. No chewing, please

The goals are to eat healthy — and cleanse the body
VERY VEGGIE Roni DeLuz (with James Hester) says most people can lose about a pound a day .
By Kate M. Jackson, Globe Correspondent | May 3, 2007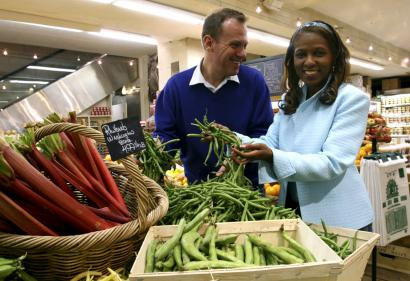 Detox diets have been all the rage lately, adopted by celebrities, soccer moms, and more than a few people in between. Now a new detox diet — developed on Martha's Vineyard by Roni DeLuz — is starting to generate buzz of its own.
The regimen, outlined in DeLuz's forthcoming book, "21 Pounds in 21 Days: The Martha's Vineyard Diet Detox," relies on vitamin-rich juices, thick vegetable purees, and herbal teas. Also on the menu: nutritional supplements, vitamins, and enzymes to keep the body's systems stable and cells nourished during the cleanse.
While no solid food is allowed and chewing is prohibited, DeLuz does recommend colonics, coffee enemas, and lymphatic massages to help eliminate toxins. To the diet's devotees, that's a fair trade.
"It takes about 21 days for a body to naturally cleanse its major organs, and on this program most people can lose about a pound a day," said DeLuz. As founder and director of the Martha's Vineyard Holistic Retreat at the Martha's Vineyard Inn , she has been quietly detoxing guests with her program for years.
"This program was developed specifically as a detox," she added, "as a way to nourish the body, and change the way people think about food. The weight loss is simply a bonus."
It was quite a bonus to James Hester, a former music publisher who came to the Vineyard in 2003 irritable and overweight.
"I had three chins and weighed about 213 pounds where I am normally 175 or 180," Hester said. "I was angry and had been using food as a way to manage my emotions."
After losing 21 pounds on DeLuz's program, Hester had something of a spiritual awakening. "I realized I was not only cleansing my body but my emotions as well," he says.
Hester moved to the Vineyard to work with DeLuz full- time and implored her to share the detox program that changed his life with the rest of the world. Their book, published by HarperCollins, hits shelves on Tuesday . Unlike traditional diets, the main goal of any detox diet is to cleanse the body of toxins that have accumulated over time. Many people report clearer skin, increased energy, and improved health in addition to rapid weight loss.
Still, some are skeptical about the long-term benefits of such cleanses. Many people start a detox after long indulging in an unhealthy diet high in sugar and processed foods, according to Peter Pressman, a diet expert with the Institute of Food Technologists in Beverly Hills, Calif.
"People undoubtedly feel better when they simplify their regimen and have adequate hydration," he says. "In the short term you're going to feel wonderful. The question is what happens over the long term. Commonly conceived, detox diets are without scientific or clinical merit as a safe approach to weight management." That hasn't deterred true believers like Lauren Horton, 51, who completed her first Martha's Vineyard detox three years ago after having breast cancer surgery.
"I'd never done a cleanse before but I just felt like I needed to detoxify my body," said Horton, who was about 35 pounds overweight at the time. "The first two days were really hard. I didn't have any sugar or coffee as I usually do and had a pretty bad withdrawal headache.
"Also the social and psychological aspects of not chewing were a little strange. But by day three, I'd lost five pounds and no longer felt hungry. I was so encouraged by that positive reinforcement that it made it easy to go the distance," she said. Horton lost 20 pounds on the diet.
The most important thing she says she learned from the Vineyard program was how to choose foods that really nourish her. She often does "mini cleanses," detoxing for a few days at a time and incorporating parts of the diet, like the fresh juices, into her daily menu.
One of the tenets of the Martha's Vineyard diet is its flexibility, DeLuz says.
"You can follow it to a T, but even mini-cleanses here and there help. Put away the potato chips and Diet Coke for a weekend. Have some berries. Drink some green juice. Even if you eat just one meal a day of cleansing foods you're going to notice a healthy change."
© Copyright 2007 Globe Newspaper Company.